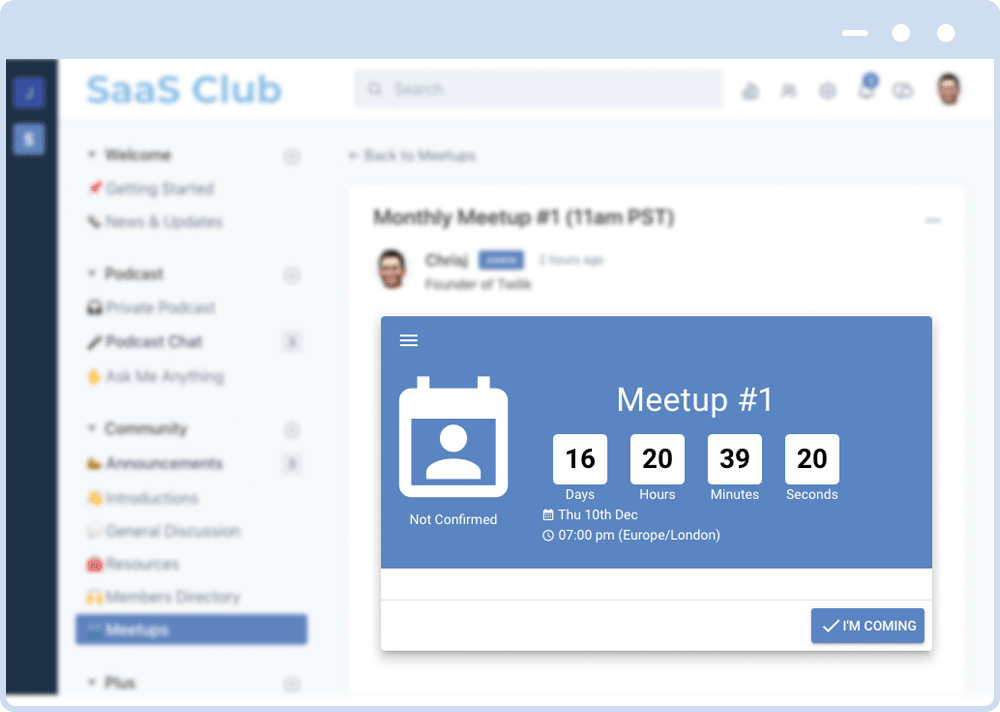 It's not easy going it alone
One of the biggest challenges facing your growth community, whether it's aimed at personal or professional development, is digital isolation. It sucks when you feel like you're going it alone.
But how do you offer a connected, collaborative experience that boosts engagement and chances of success, without it requiring a lot of time and effort from you?  
Twilik is how.
Encourage peer-to-peer engagement
Provide your students with regular 1-2-1 or group video meet-ups to enhance their learning, confidence and connection, without the need for you to organise or attend.
Whether your growth community has 10 students or 10,000 subscribers, simply name the date, time, number of attendees and reason for the meet-up and Twilik, with it's funky matching algorithms, will take care of the rest. 
Twilik integrates seamlessly with your site and is super simple to use.  Different time zones, no problem, meeting agenda, updates and reminders, all done for you.  Twilik encourages course and community members to feel comfortable to connect, collaborate and support each other even when they've never met. 
Online Learning
Your online course is all about helping your students succeed. Adding a regular meetup is a fantastic way to create a real sense of community and encourages students to stay on track. You can use it as a chance to discuss lessons, to help solidify learning or to practise specific skills.
Personal Development
Your community is all about change, but change is hard. It's even harder doing it on your own. Use regular meetups and let your members talk to each other, discuss what they are learning and support each other through any challenges they are facing. Help them help each other to transform.
Professional Development
In business it is easy to feel like you're the only one experiencing things, you're a solo founder or the only person in a company responsible for what you do. If your community is all about helping members develop themselves, meetups can be what makes the difference.
Connection that super charges success
 Communities need active and engaged members to thrive. We all need need connection and support to succeed.
Twilik turns your online offer into something that has real world value.
And it scales because you don't need to be there.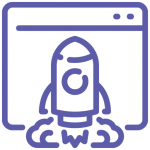 Accountability
Regular checkins with other community members can help move beyond procrastination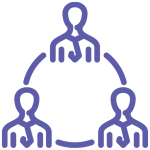 Coaching
Peer to Peer coaching can be incredibly powerful. Let your members help each other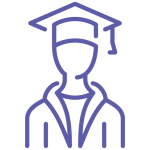 Study Buddies
If you're running an online course, let your students connect and work together. 
Works for:
Joint projects
Role playing
Revising & practicing skills
Twilik allows your students to work together.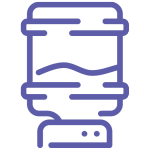 Water cooler
Your members joined your community to hang out with people with similar interests. Give them an informal space to chat and get to know each other better.
But I already have a forum!
While your students may contribute to your forum or facebook group they may find it intimidating to independently reach out and ask for the deeper connection and support they need to grow and succeed. There's simply no substitute for being able to collaborate, coach, problem solve, brainstorm and practice with your peers - with people on the same path as you. With people who get it!
Encouraging your students to
Go It Together
couldn't be more simple.
How it works
Getting your members to chat is simple. You do the initial setup and let Twilik do the rest.
1. Create a Meetup in Your Twilik Account
You pick the day, time and how often you want the meetup to happen. You also get to choose group sizes and how you want the groups to be created.
2. Embed the Meetup in Your Community
Create a page or a topic in your community and drop in the Twilik embed snippet. Now your members can see the next meetup localized to their time. Just like any other page you decide who can or can't see it and because they are already logged into your site Twilik has all their details, no need for members to sign in or register.
3. Members Subscribe to the Meetup
In the page your members can subscribe to the meetup. 24 hours before the start Twilik creates the groups and notifies everyone about who they are meeting up with. Late subscribers are added to groups on the fly as soon as enough others subscribe to create a group.
4. Members Join the Meetup
As well as providing a calendar event, Twilik sends a reminder email just before the meetup starts. Your members head back to the same page they subscribed on. When the meetup starts they are connected via an embedded video call to everyone else in their group. Nothing to install and no need to leave your membership site.
5. After the Meetup
Attendees are asked for feedback for you to view from inside your Twilik account. They're also prompted to join the next event if there is one. Anyone visiting your post or page now sees the details of the next event, you don't need to change anything.
Simple pricing and a 30 day free trial
Our pricing is based upon the number of meetings each member attends a month.
There is a minimum of 50 users, but above that you only pay for users that join meetings.
50

users/month
$

50.00

/m
BETA
During the BETA one price for everything we have.
Includes first 50 users
Unlimited meetups
Up to 12 hours meetup length
Up to 5 meetup participants
Embedded in your site
Automated scheduling & matching
Peer-to-Peer meetups
Screen sharing
Email support
NB. UK will be charged in GBP, all other countries will be charged in USD at the current currency conversion rates from GBP.